Honda 8 to 20 HP Outboards
HONDA PORTABLE RANGE

Benefits and Features of the 8 to 20 HP
Contact now

text-decoration-thickness:initial; text-rendering:optimizelegibility; white-space:normal; width:600px">

Four Stroke

Cleaner, more efficient combustion method and is the only Marine Engine ever built by Honda. World-renowned Honda quality combines proven reliability and superior fuel efficiency with no oil mixing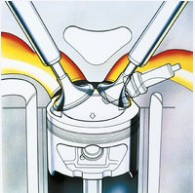 Corrosion Protection

A patented, "Double Sealed" multi-layered paint process. Sacricial anodes and stainless steel technology, along with water resistant connectors, all enhance corrosion protection
Auto Choke

The auto starting enrichment system ensures optimum air-fuel ratio to the engine, eliminating the chores of choke operation and greatly simplifying engine startup.

This provides optimum air-fuel ratio through the dedicated line independent of the carburetor. As the engine warms up, the PTC heater also becomes warm and eventually closes the dedicated line completely.
Low Vibration

An exclusive Honda feature, the PM mount helps absorb the vibration of 4-stroke 2-cylinder outboards, including longitudinal vibration that was difficult to be cancelled successfully by the existing rubber mounting systems. The PM mount does this without the use of a heavy balancer shaft, helping to reduce the outboard weight.

Longitudinal vibration is dispersed sideways like a pendulum by optimizing the weight distribution of the crankshaft. To help absorb vibration, rubber mountings are arranged on the pendulum loop that is formed as the engine vibrates in a swing motion. All this is achieved without using a balancer shaft or compromising the usability of the tiller handle.
Easy Maintenance

So little to go wrong and simple easy to use, All parts held in stock and based in the UK.
Easy re start

By providing a fuel chamber between the fuel pump and carburettor, the temperature gap between fuel in the carburettor and that in the fuel tank at warm-engine restart is minimized. This minimizes vaporization of fuel and helps to stabilize fuel supply. If a warm engine is restarted and the throttle valve is fully opened immediately afterward, fuel in the fuel tank, which is cold, is allowed to flow very quickly into a hot carburettor. Due to the great difference in temperature between the hot carburettor and the cold fuel from the tank, fuel upon entering the carburettor will immediately vaporize, blocking the lines in the carburettor. This is called "vapour lock." Vapour lock prevents the carburettor from functioning properly, making it difficult for the engine to start..
Optional High Capacity Charging

High output 6 or 12 amp alternators are used across the 8 and 20 HP range allowing further use of electronics.